Directions:
If you are driving from Auckland City via State Highway 1, take exit 398 and turn left at the roundabout toward Dairy Flat Highway.
If you are driving from North via State Highway 1, take exit 398, take the third exit at the roundabout toward Dairy Flat Highway.
Follow Dairy Flat Hwy for 2.3km, turn left on Wilks Rd and continue for 1.1km, turn right onto Postman Rd, North Shore Airport main parking lot is located 1.0km down the road on the left, next to North Aero Club Building.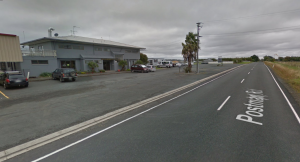 Parking at North Shore Airport. Terms and Conditions:
This car park is only for the use of airline passengers flying from North Shore Airport and North Shore Aero Club members and guests;
Maximum stay is 3 months. Any vehicle left within the car park in excess of this period will be deemed abandoned and may be sold to offset costs as determined by North Shore Airport from time to time;
Parking is free but you must text your registration plate to 021 124 5320 so we can contact you if necessary;
Vehicles are parked in this car park entirely at your own risk;
You are liable for any damage to the car park or to any other vehicle caused by you or your vehicle;
North Shore Airport shall not be responsible for any injury to any person or damage or loss to any property (including a vehicle or any goods contained therein);
You must comply with all laws, regulations and rules that apply when operating your vehicle in this car park. In particular, vehicles must be operated safely, with due care and consideration, and cannot be operated in a reckless or dangerous manner;
Overnight camping is prohibited;
Any person found causing damage to the car park, machinery or contents of the car park risks prosecution;
If you breach these conditions we may issue an enforcement notice or remove your vehicle by having it towed at your risk and expense and we may hold the vehicle until all outstanding debt and administration fees have been paid. All legal rights and remedies and applicable bylaws will be pursued in the enforcement of these terms and conditions.